EMOs know how to deal with heartbreak, don't we? Day 1 of the highly anticipated EMO music festival, When We Were Young, has unfortunately been canceled due to high winds in the Las Vegas desert.
Day 1 festivities were scheduled to kick off soon, with thousands of EMOs descending onto Las Vegas last night, pumped for a weekend filled with My Chemical Romance and Paramore. The announcement of the first day's cancellation was posted on the festival's social media profiles and security gave notice to festivalgoers eagerly awaiting the gates to open.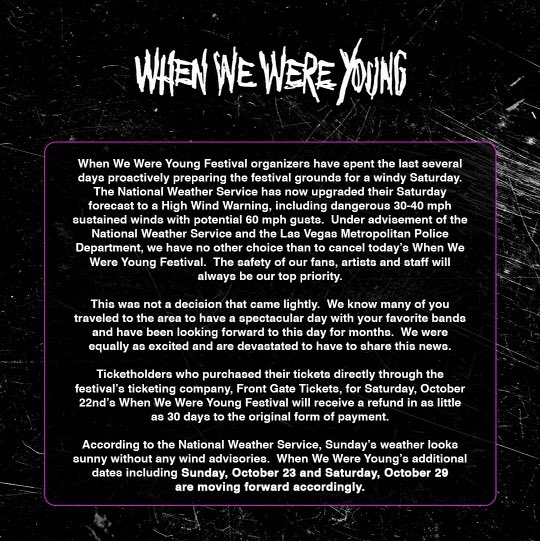 I'd love to be shocked by the festival's first day being canceled but from having an eagle eye on things for this weekend, the National Weather Service had these advisories posted for a few days. So, while festival promoter Live Nation did the right thing due to possible stage collapse or other mishaps thanks to high winds, it's one that seemed to have been known ahead of today's cancelation.
Sunday, October 23, and Saturday, October 29, are still scheduled to go on as planned, with Live Nation refunding today's festivalgoers through Front Gate Tickets.
Suppose you're still looking to show off your EMO lifestyle and can't make it to the other dates of the festival. In that case, The All-American Rejects are looking to put on a free show in Las Vegas tonight, something I'm sure other bands will be jumping towards as well as a less-favorable option for day 1 festivalgoers.
Keep up with When We Were Young festival on social media: Instagram | Facebook | Twitter | TikTok