It's been almost two years since Green Day, Fall Out Boy, and Weezer announced their cross country stadium tour, dubbed the Hella Mega Tour. And, while now might not exactly be the right time for full-blown concerts to be taking place, these three rock bands, with the help of The Interrupters, brought classic rock stadium vibes back to Petco Park in San Diego, CA. In turn, keeping me from going completely insane.
After about a mile and a half walk through the Gaslamp Quarter in downtown San Diego, because screw paying $50 for stadium parking, concert-goers were in for a party of a time with opening act The Interrupters, a band I was not familiar with. But, am now a fan of would get fans out of their seats and just overall having a fun time. Pumping through their fast-paced set certainly made the wait for Weezer to come on stage more enjoyable. I can confirm I was singing the lyrics to their song, "A Friend Like Me," in my head where they would stay until this morning. Certainly, a great introduction for the madness of the Hella Mega Tour, and as the band would put it, they were quickly becoming a "stadium rock band" before our very eyes.
I'm looking forward to partying to The Interrupters set again sometime soon, even if it's in the comfort of my own home.
Next was a band I have seen before but have grown quite fond of due to their cover of '80s hit "Africa." That's right, Weezer would soon take the stage with one of the brightest old-school rock band stage designs I've had the pleasure of seeing. Seriously, there's something magical about larger-than-life teal-drenched lightning bolts and brightly colored amps dressed across the stage. Taking the stage to Van Halen's "Jump," the crowd would erupt into a firey scene of applause and shouting as these complete loveable dorks crossed onto the stage. Frontman River Cuomo specifically looking like he just crossed over from an '80s family comedy where he would star as a hip and cool father.
The great thing about Weezer's set throughout the Hella Mega Tour is just how generational it was. These fun-loving rockers were able to showcase different songs from across their tenure as a rock band. Obviously, playing the hits such as "Undone" and "Say It Ain't So." But, also including a fair share of their new tunes "Hero" and "All My Favorite Songs." A fantastic mix of old and new for all levels of their fan base. Which from the show at Petco Park included tons of older fans and kids going to their first rock show. It's a nice sight when you see whole families of 10+ going out to enjoy a good rock performance.
Personally, for me, Weezer's performances of "Africa" and "Surf Wax America" really got me going. My throat already feeling sore throughout Weezer's set was only going to get worse once Fall Out Boy and Green Day would take the stage. As I knew, I would be singing at the top of my lungs for hours. Weezer always puts on an amazing performance, and their '80s clad performance during Sunday night's show in San Diego was no different. If you've never been to a Weezer show, you're missing out.
Up to bat next would be Chicago's very own pop-punk icons, Fall Out Boy. A band I had previously seen during 2014's Monumentour with Paramore, in which I was greatly disappointed. Feeling burned from that 2014 performance, I went into Fall Out Boy's performance during the Hella Mega Tour with some caution. Luckily, that caution from 2014 was thrown to the wind as the band raged on stage with a fiery performance of "The Phoenix." While I was thoroughly entertained, my niece, who had accompanied my wife and me to Sunday night's show, was feeling my 2014 letdowns. In particular, bassist Pete Wentz. As she felt the famed bass player was going through the motions.
---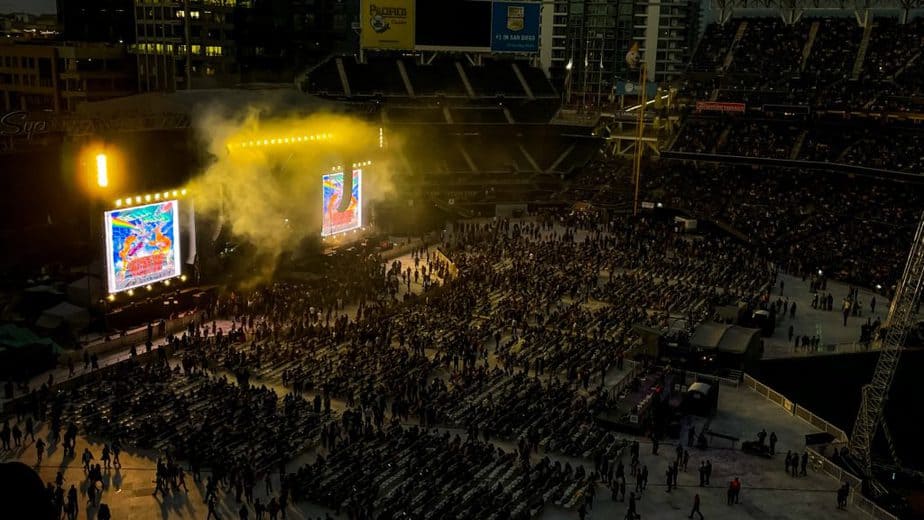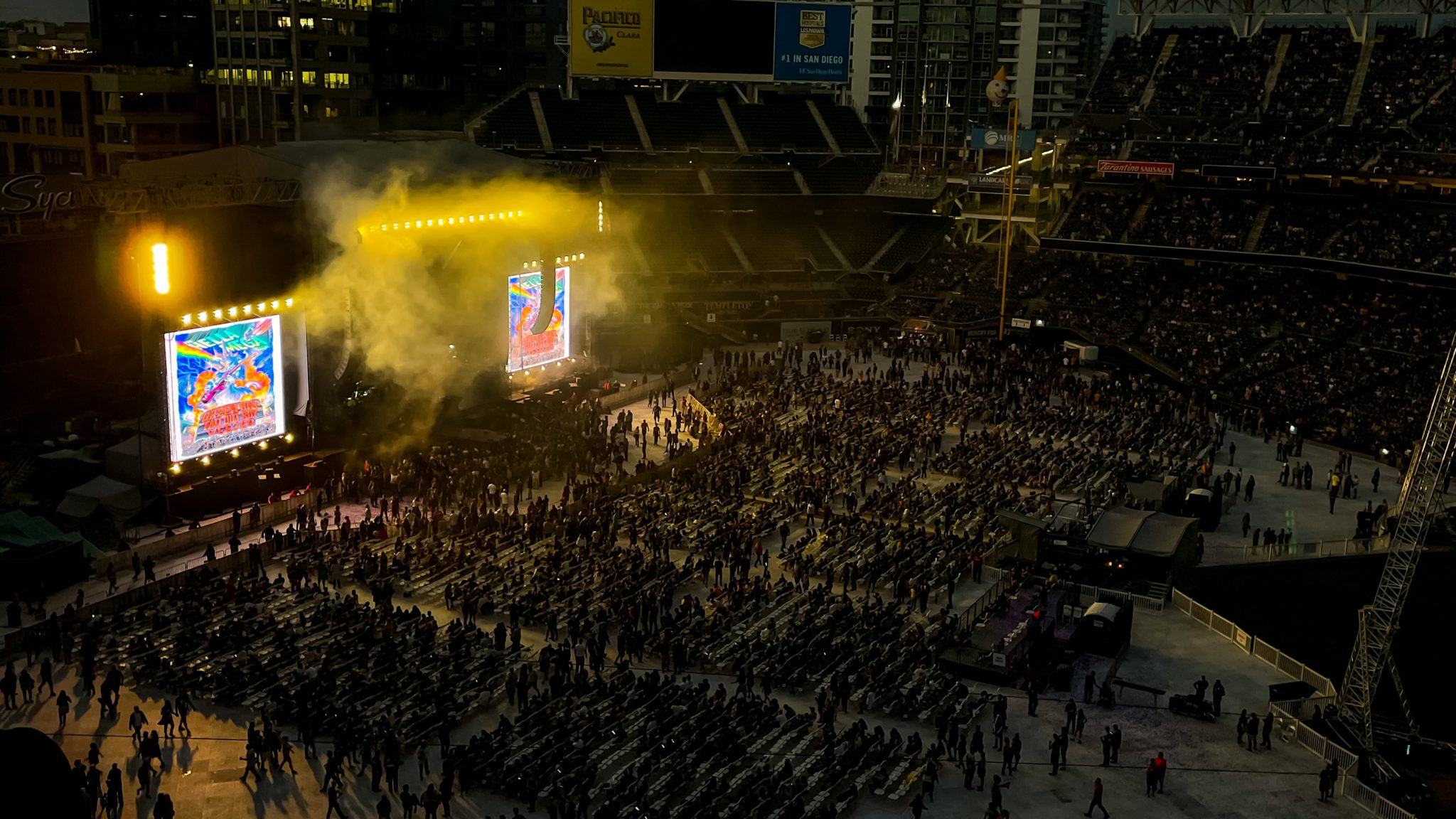 ---
On the other hand, I thought Pete Wentz's energy levels were at full capacity throughout their energized Petco Park performance compared to their Monumentour letdown. Taking a minute to chat with the crowd on how his manager didn't think kids liked rock music anymore and how he and the boys of Fall Out Boy set out on the Hella Mega Tour to prove his manager wrong. Which they did, with a flurry of hits stretching from their vast catalog of pop-punk and rock hits, such as "Sugar, We're Goin Down," "This Ain't A Scene, It's An Arms Race," and very emotional and beautiful performance of "Save Rock and Roll."
Also, I can never get enough of hearing the classic Fall Out Boy closer, "Saturday" live. It's just too good of a pop-punk hit. Both, Fall Out Boy and Weezer set the bar high, but no one in Petco Park was prepared for the perfect storm that was Green Day.
Taking the stage after an awe-inspiring fan-led sing along to Queen's "Bohemian Rhapsody," which could be heard within the neighboring skyline complexes. It was finally time for Green Day to take the stage. Hands down one of the best rock bands to ever perform. My wife, niece, and nephew got to experience for the first time what I had already experienced two times before Sunday night years ago. If you're not a fan of Green Day, you will be after taking in the energy of Billie Joe Armstrong, Mike Dirnt, and Tré Cool.
Taking the stage with their mega-hit "American Idiot," the crowd in Petco Park on Sunday night would never be the same. Frontman Billie Joe Armstrong would hit the concept home multiple times that "we've been staring at our phones for a year and a half straight sitting inside," while bringing fans closer together, hitting the nail in the coffin that this show was something many of us needed again, "we need to be together, we get to be together, we get to love on each other, we get to dance together, we get to sing together."
It was during Armstrong's message that really got me going because it was true. I almost forgot how amazing going to an actual live show felt up until that moment. A year and a half of no live music was like hell for me, and I quickly found myself getting emotional while Green Day put on a hell of a performance that ranged throughout their strong thirty-four-year career.
Putting concert-goers through the wringer with "Welcome to Paradise," "21 Guns," "Wake Me Up When September Ends," and a very emotional "Still Breathing." Green Day quickly proved why they are God's favorite band. Also, their inclusion of KISS' "Rock and Roll All Nite" got the entirety of Petco Park dancing, jumping, and singing along like crazy. As I mentioned, I've seen Green Day a few times already. But, their performance during the Hella Mega Tour had me feeling like I was seeing them for the first time.
One thing is for sure; Green Day was pumped, fired up like never before, and are prepared for whatever comes next. The Hella Mega Tour was just the beginning for all four of these amazing rockers.
As a whole, the Hella Mega Tour is up there as one of the best shows I've had the pleasure of attending, which made it even more special that my wife and I got to take our niece and nephew to their very first live show. Minus a few sound issues, which seems to be a regular occurrence for stadium shows; it was amazing.
There are still a few dates left for the Hella Mega Tour, so if you're looking to attend, head on over to the tour's official website and see if you can still catch this once-in-a-lifetime experience for yourself.
---
Weezer Setlist:
Hero
Hash Pipe
All The Good Ones
Beverly Hills
The End of the Game
My Name Is Jonas
Pork and Beans
Feels Like Summer
All My Favorite Songs
Undone – The Sweater Song
Surf Wax America
El Scorcho
Island In The Sun
Africa
California Snow
Say It Ain't So
Buddy Holly
Fall Out Boy Setlist:
The Phoenix
Sugar, We're Goin Down
Irresistible
Uma Thurman
Grand Theft Autumn/Where Is Your Boy
Save Rock and Roll
The Last of the Real Ones
Dance, Dance
A Little Less Sixteen Candles
This Ain't A Scene, It's An Arms Race
My Songs Know What You Did In The Dark
I Don't Care
Thnks fr th Mmrs
Centuries
Saturday
Green Day Setlist:
American Idiot
Holiday
Know Your Enemy
Pollyanna
Boulevard of Broken Dreams
Longview
Welcome to Paradise
Hitchin' A Ride
Rock and Roll All Nite
Brain Stew
St. Jimmy
When I Come Around
21 Guns
Minority
Knowledge
Basket Case
She
Wake Me Up When September Ends
Still Breathing
Jesus of Suburbia
Good Riddance
---