This tour, I believe, could quite possibly be the best Angels & Airwaves experience I've had over the almost two decades of attending shows put on by the Tom DeLonge-led space-punk group. With the help of Los Angeles-raised bands Bad Suns and 1990nowhere, Angels & Airwaves got to celebrate their latest album, LIFEFORMS, with the start of the 2021 leg of the LIFEFORMS tour, which kicked off in Riverside, CA, at the Riverside Municipal Auditorium. Which I have to say is a pretty rad venue, excellent event staff, sound, and lighting. I'll probably be back there a lot more.
My wife and I quickly found the best balcony seats around, as our feet were going crazy the night before partying with Hawthorne Heights at the House of Blues in Anaheim, so I figured since we're going to attend another LIFEFORMS tour show in November, it's a no brainer to take in the awe-inspiring Angels & Airwaves live experience while resting our tired out feet. We had seen Angels & Airwaves before COVID shut down the world at the end of 2019 and were crazy ready to experience the magic again.
The lights dimmed, and the show quickly started, and out came aspiring rockers 1990nowhere. Let me tell you, having no prior knowledge of how much fun this up and coming dance-rock group was going to be; I was in for quite the surprise as I quickly fell in love with the band's onstage energy, keeping fans entertained and dancing from their first song to their danceaholic melody, "Picasso."
1990nowhere let the crowd know mid-set that this LIFEFORMS tour performance was their first time performing together in front of an active crowd. Which was pretty damn crazy because of the energy these guys had, you could have told me they were ten-year-plus veterans, and I would have believed you.
These four rockers are up to bat, and I see home runs in their future, as well as a new single titled "Asteroid" coming out this Friday! I'm looking forward to partying with them more as I'm sure they'll sneak up on me while opening more shows in the future.
---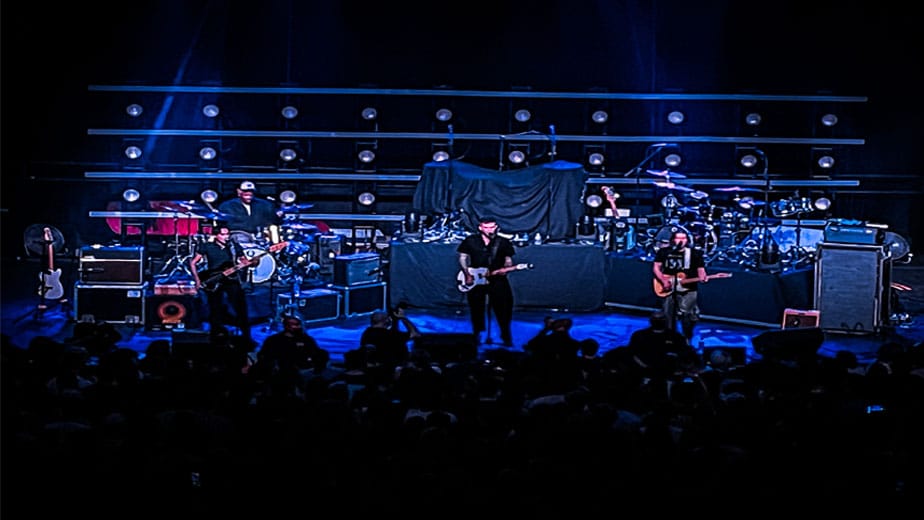 ---
1990nowhere already setting the bar pretty high for a high-energy night meant Bad Suns had quite the challenge ahead of themselves. Yet another group from the sunny streets of Los Angeles, Bad Suns, is another band I had never exactly heard of before. I knew the name "Bad Suns," but I never took the time to sit down and spin one of their records or blast a single through my car's speakers.
Which is a shame as, just like with 1990nowhere I left the first date of the 2021 LIFEFORMS tour a huge fan, and I already got a good chunk of their material stuck in my head. I guess what I'm saying is, it's always great to get to a show early because you never know when an opening band you have no idea about could become a quick favorite.
Bad Suns continued the high energy routine started by 1990nowhere, creating electric fusion right in front of the crowd, uniting dance with high flow beats meant a night filled with danceable memories. Bad Suns would captivate the audience cheers performing their hit "Daft Pretty Boys," which got the crowd mixed in a flurry, sending cheers to the heavens as Bad Suns captivated the moment with stories of their past and jokes galore.
Stating the show at the Riverside Municipal Auditorium had been their first time performing in the Southern California city and how it was the best performance they had ever had in the town of Riverside set the mood for the remainder of their set.
Continuing to bring down the roof at the RMA, Bad Suns would continue their first performance in over two years with their high energy, instrumental masterpiece of a song, "Cardiac Arrest," which would continue to see the crowd moving, moshing, dancing, and loving on one another note for note as the night drifted quickly.
Bad Suns conducted the crowd masterfully. There's always something special to be taken from an opening band, making the audience their own, creating an atmosphere between the opening band and headliner so very thin.
Bringing their set to a close, Bad Suns would thank 1990nowhere and Angels & Airwaves for what is sure to be the start of one of the best tours of 2021. It should also be noted that Bad Suns just released a new music video for their song, "When The World Was Mine." Which you should go ahead and check out!
---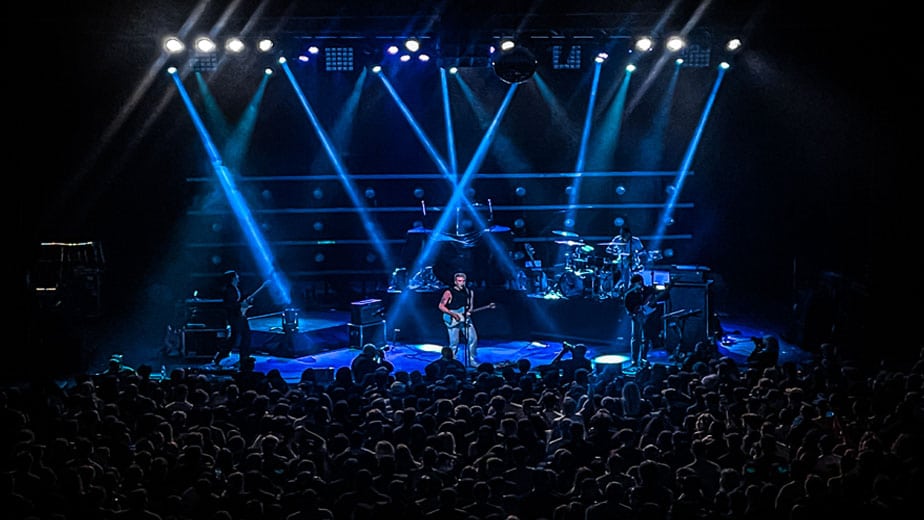 ---
Next up, the band of the hour; Angels & Airwaves.
Not wasting any time, Tom DeLonge, Ilan Rubin, David Kennedy, and Matt Rubano rushed the stage for an energized and hard-hitting performance of their 2019 single, "Kiss & Tell." An intro that got the crowd fired up, sweaty, and dancing through the night. And if you've never experienced an Angels & Airwaves light show before, you are in for a treat as the band brought their light show expertise for the LIFEFORMS tour. It certainly was the best AVA-style light show I've experienced, and I've seen this band live many times before.
Front loading the beginning of their set with tracks taken off their latest release, which included "Timebomb" and "Euphoria," to some might appear as a ballsy move. But, to myself, I see it as a way to showcase the namesake of the band's tour as well as celebrating their latest record with their insanely dedicated fan base. And I must say, "Timebomb" and "Euphoria" sounded exceptional and miles superior to their album counterparts.
So, don't sell LIFEFORMS short if you dislike how a track sounds on the album because you might just be surprised by the high energy they bring to a live setting.
Quickly moving through the set, Angels & Airwaves would perform the always fun "Surrender" and radio-hit "The Adventure." One thing is to be said about the LIFEFORMS tour, and that is that Tom DeLonge brought his best when it comes to his vocal game. As all Angels & Airwaves fans have come to know, Tom is either hit or miss when it comes to his live performances.
But, during both these tracks and the set as a whole, Tom DeLonge brought fire to the stage to back the fantastic instrumentals performing around his melodies. This is the best I've heard Tom perform live with Angels & Airwaves, so whatever he's doing, I hope he continues.
Also, a little side-note, but Ilan Rubin's drums sounded terrific during the entire performance. They had real "stadium rock" show vibes. This was the Angels & Airwaves I've always wanted to see live, and I wasn't disappointed.
In classic Tom DeLonge manner, he would stop between blocks of the set to recount stories of his youth and let the audience know that he was drinking piss instead of water on stage. But, it was Tom's story about his father and the crazy insane energy he felt when his father passed before the band would begin to perform their Dreamwalker hit, "Tunnels," that takes the cake for the entire night. Everything from the band's energy to Tom's vulnerability played into a fantastic performance that brought the audience for a ride into the unknown.
---
---
Angels & Airwaves would continue to display their high-energy antics with performances of "The Wolfpack," "Start the Machine," and my personal favorite AVA track, "Rite of Spring." To close out their amazing fifteen-track setlist, Angels & Airwaves would dive into a fiery performance of "The War," which got the audience moving one last time before being blown away by the space-punk group's breathtaking performance of "Heaven."
A performance that was like no other. I walked away from the first date of Angels & Airwaves' LIFEFORMS tour excited for the band, full of energy, and feeling like I was on top of the world. To quote the band's closing number, "Heaven must be just like this."
It's no secret to those that know me that I'm very hard, in my opinion here when it comes to Tom DeLonge. But, it's not to be a complete ass; it's because I know the great things Tom is capable of, and hand holding his ego helps no one and is more of an insult to the man himself.
But, this was both Tom DeLonge and Angels & Airwaves at their complete best. And, if you're on the fence about whether you should attend a date on the LIFEFORMS tour, get your butt off that fence and get some tickets because you don't want to miss this high-energy experience.
If you'd like to pick up tickets to experience Angels & Airwaves live for yourself, you can pick up your tickets by heading over to the band's official website. Where, you can also pick up the band's new album, LIFEFORMS, in tons of cool vinyl varients. I can't wait to jump in and review this bad boy within the next few days. So, keep an eye out for that!
I'm now, even more looking forward to experiencing the LIFEFORMS tour again on November 5th.
---
1990nowhere Setlist
Intro
Gretzky
Sundance Kid
Picasso
Watergun
Asteroid
Angels & Airwaves Setlist
Kiss and Tell
Timebomb
Euphoria
Surrender
The Adventure
Everything's Magic
It Hurts
Tunnels
Paralyzed
Rebel Girl
The Wolfpack
Start the Machine
Rite of Spring
The War
Heaven