WOOSUNG of the popular k-indie band The Rose might not fit into any specific "k-brand" genre, but his eccentric take on the pop-rock scene is filled with magic and wonder, and bringing his unique style to the sunset boulevard in Los Angeles to the legendary Roxy Theatre for his MOTH Showcase was an instant no brainer especially when you consider his attachment to the US pop-punk scene.
My wife (who introduced me to the soothing voice of WOOSUNG) and I would arrive in West Hollywood a little after 3 PM, tired vocally from the night before as we also attended the Los Angeles debut of All Elite Wrestling at the KIA Forum to find probably the worst parking experience I've witnessed in regards to a concert in Los Angeles. Seriously, some parking areas turned members of the Woolfpack away when they would acknowledge they were there for an event at The Roxy. Just horrible all around.
But, we pushed on and quickly claimed our spot in line down the block, where we were approached by friendly Black Rose members offering freebies to concertgoers. A great sentiment I was happy to see as I've only been familiar with fans at pop-punk shows (my genre of preference), and the usual fanfare online is that k-based artist fanbases are sometimes a bit too hostile and stand offish.
A notion I can happily say I didn't experience from the Woolfpack/Black Rose community. Instead, I experienced friendship and a coming together to celebrate WOOSUNG's outstanding accomplishments that came from the release of his newest EP, MOTH.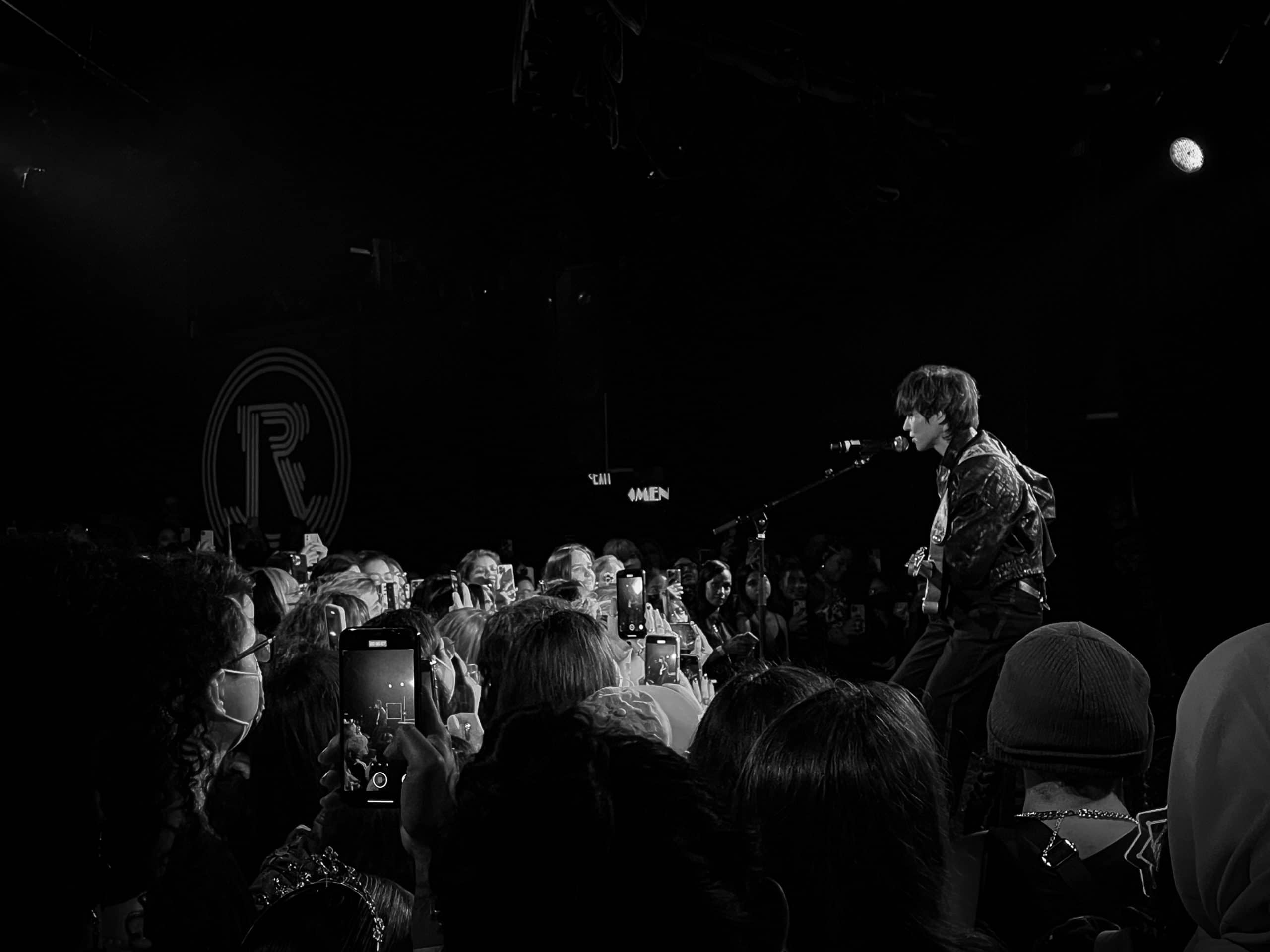 As 7 PM approached, our growing line would quickly begin to move as showtime was scheduled to start at 8 PM, and the event staff attempted to get concertgoers inside the walls of The Roxy as fast as possible. But, from what I can gather, an issue with the VIP line would begin to hold up the line from moving as a whole, and the section of the line we were in wouldn't get into the building until close to 7:45. Bad optics for the venue, in my opinion, as they should have been better organized for the double lines.
Once inside, I took a peek at the merch offering from WOOSUNG, which included an array of items from his MOTH collection, which has featured a sold-out online pre-order for weeks, and when conversing with the night's merch operator, I was told that merch had been selling out at the shows quickly, at times even before WOOSUNG himself took the stage.
It's hard to explain just how unique of a concert venue The Roxy Theatre is to someone who has never experienced a show within its legendary walls. Having seen high profile artists like Fall Out Boy during their first reunion show, I knew what to expect and was constantly questioned by fans in the back of the room if they would have a good viewing experience from their location, to which I promptly told them there was no bad spot at The Roxy.
It was promptly announced that WOOSUNG would hit the stage at 8:15, and as the time ticked down, the energy within the venue would begin to fire up as concertgoers would get glances at The Rose frontman himself and his guests for the night.
WOOSUNG wouldn't let his fanbase wait long as he would take to the stage on the dot with a riveting performance of "FACE" that would lead the crowd into a flurry of cheers and screams as they sang along word for word burning a glaring smile across the face of WOOSUNG. Dancing through the music like a phantom in the night, WOOSUNG showcased his abundance of energy move after move as The Roxy was filled with lights.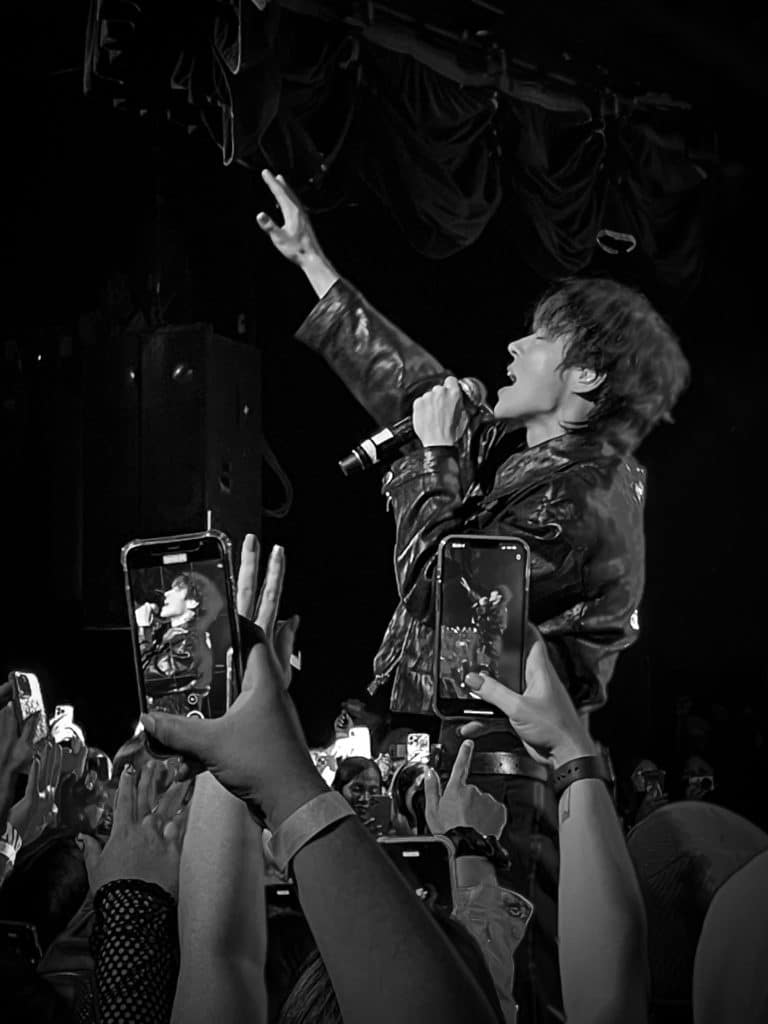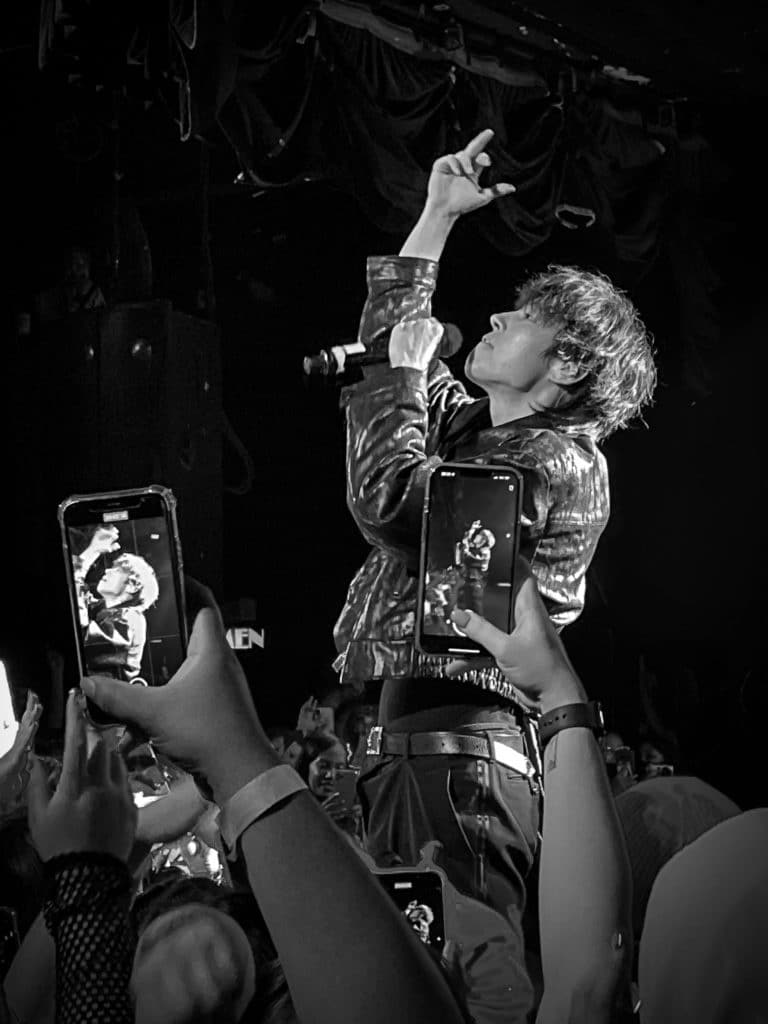 Jumping between Genre fan favorites "Lazy" and "Dimples" screams from the crowd would continue as sweat would begin to find its way into the eyes of WOOSUNG, creating a blurry experience as he would start to power through the hit song from The Rose "RED" which would intensify the screams being heard across the venue by tenfold. WOOSUNG's raw performance energy is enough to convince someone who isn't familiar with his work to check out a live performance as it would quickly turn them into lifelong members of the Woolfpack.
After his jaw-dropping performance of "RED," WOOSUNG would lose his battle with the sweat dripping down his forehead as he would go on to announce the need to take his jacket off, which would promptly have fans in the crowd shouting and wooing as The Rose frontman made himself more comfortable on stage. Some fans even got into the moment by telling WOOSUNG to take it all off, treating the singer as common eye candy.
He would disprove these thoughts by grabbing his guitar for an emotional performance of "I.L.Y.," which would quickly bring the venue's energy down a few notches to bring WOOSUNG back into control of his roaring fan base. Showcasing his remarkable vocal range, WOOSUNG created an atmosphere of protection, love, and undying affection between artist and fan. Something not seen at most live shows nowadays.
The first highlight of the night for me was experiencing WOOSUNG perform one of my favorite tracks, "Beautiful Girl," which the artist added to his set list a few shows prior due to fan reaction to the song being initially left off. I've grown an attachment to the track as I annoy my wife almost daily with the track's infectious string of lyrics, "hello, yeah my name is Sam and I like some ham." So, hearing them live as a packed venue sung them back to the stage was a great moment to share.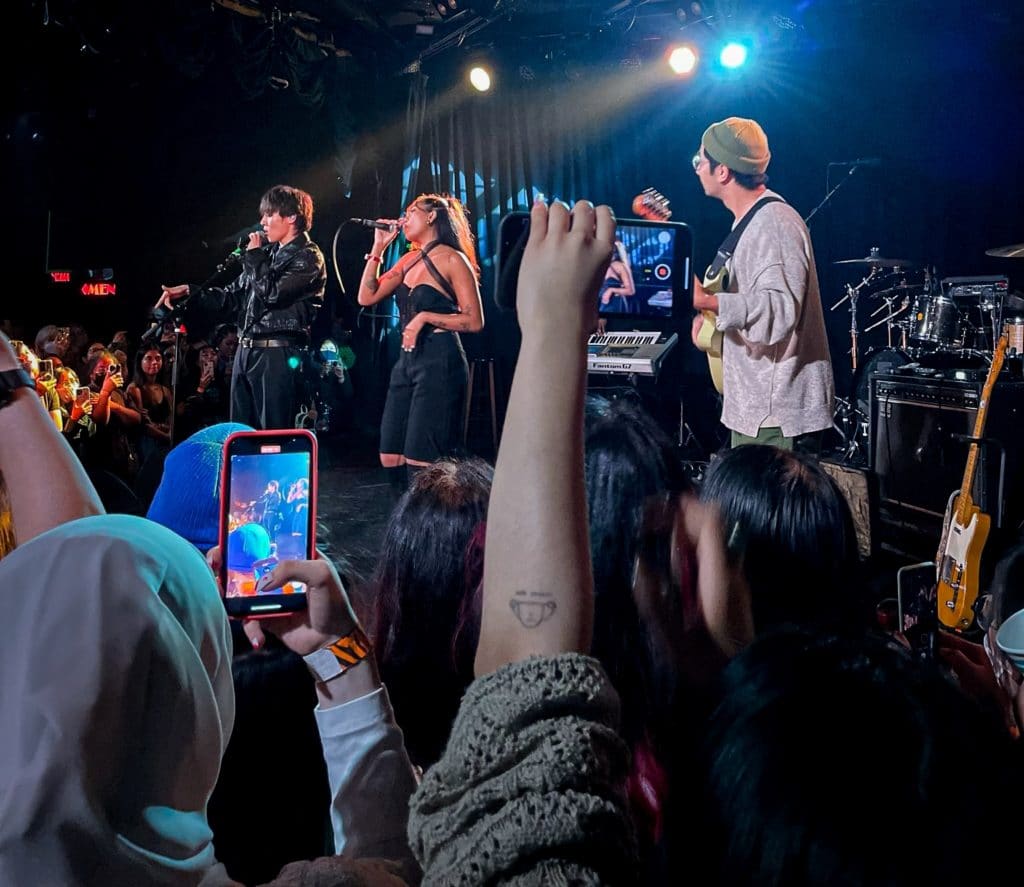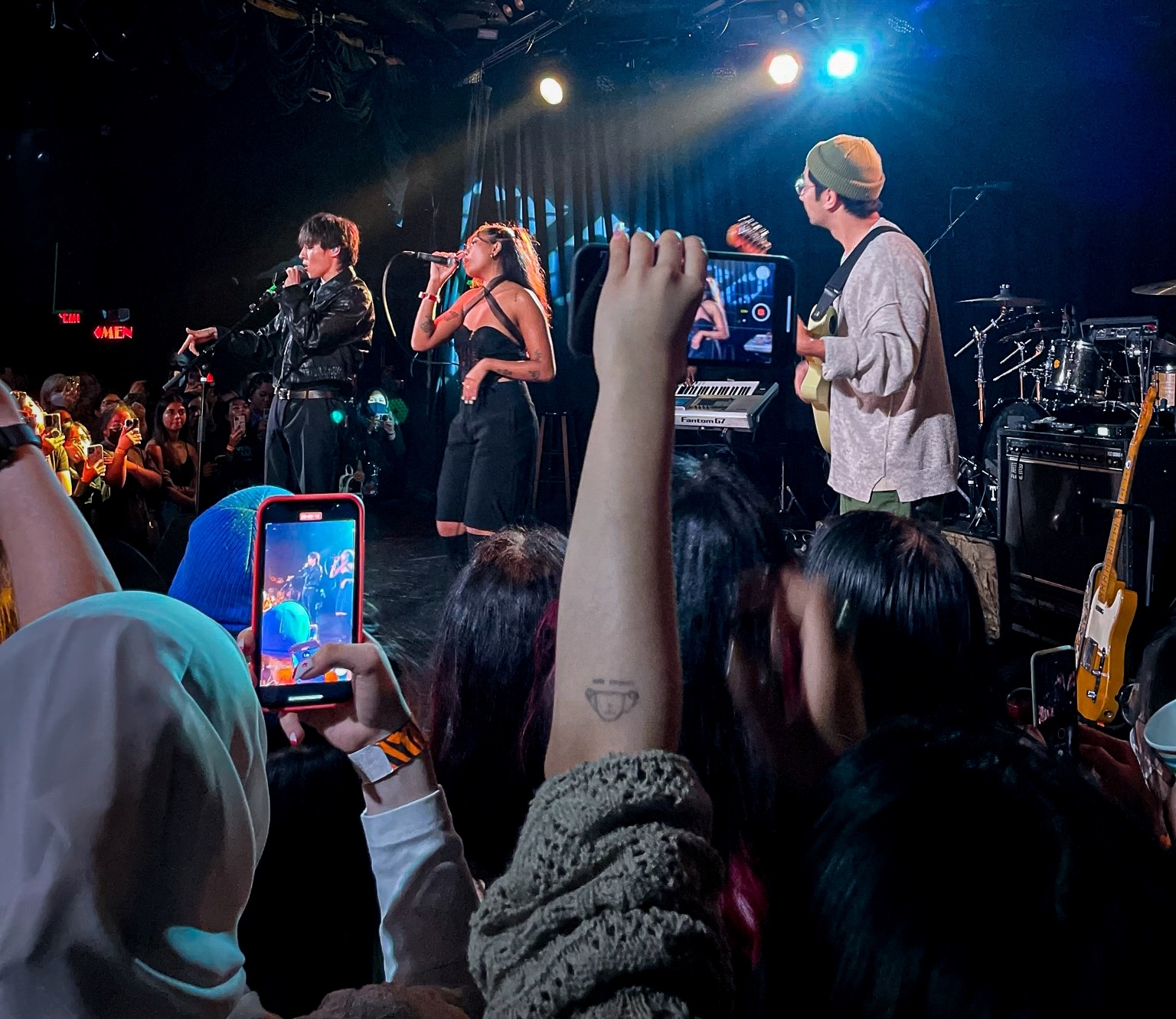 WOOSUNG would bring the second half of his MOTH Showcase to life by performing his latest EP in full with the help of Sweater Beats, who helped the artist write and put together the four-featured tracks. It's always a fun experience getting to hear songs come to life with other musicians involved in the process, so to experience the chemistry between WOOSUNG and Sweater Beats in such an intimate space was beautiful.
When it comes to Sweater Beats himself, you could tell he was taking in every single moment on stage and, at times, would have his eye closed as he felt the music pulsing through his very being. The type of magic people like me loves to see artists feel within a live setting.
During the duo's performance of "Side Effects," WOOSUNG and Sweater Beats would have yet another surprise for concertgoers as they would be joined on stage by the beautiful and talented SATICA. Creating a force of nature that can't be explained, fans within the venue would continue to lose their voices as screams and cheers would intensify even more as the night would begin to inch closer to being over.
During WOOSUNG's incredibly emotional performance of "Modern Life," which would become my favorite of the night, fans throughout the venue would hold up signs provided by fan account "TheRoseInternational" that read "You are our light that helps us shine." An emotional reaction would overflow WOOSUNG as he read the signs feeling the connection between himself and his fan base reach a whole different level.
It was a beautiful sight that would lead into the night's final performance, a heart-pounding and blood-rushing rendition of "Phase Me." An incredible final performance would bring the show back full circle as WOOSUNG continued to party across the stage while reaching out for hands and smiling from ear to ear.
WOOSUNG's MOTH Showcase is a show I'll likely never forget. Everything from the feeling of community while standing in line to hearts beating as one while WOOSUNG took to the stage are moments I love when going to shows, and WOOSUNG and his welcoming fan base delivered on all fronts. I'll likely be joining Black Rose members again when WOOSUNG returns with his k-indie band, The Rose, sometime in the very near future.
Keep up with WOOSUNG on social media: Instagram | Twitter | Facebook
Stream WOOSUNG's latest EP MOTH on Spotify
WOOSUNG Setlist
FACE
Lazy
Dimples
RED
I.L.Y.
ILYSB
Lonely
Beautiful Girl
Island
ComE dOWn
Side Effects (Feat. SATICA)
Modern Life
Phase Me