Multi-genre crazy man Post Malone has had an exciting Summer season so far; with the release of his latest album, Austin, and the success of his If Y'all Weren't Here, I'd Be Crying tour, the high-energy antics of Posty could not be stopped in any form as the rapper brought the final date of his 2023 North American tour to a close in San Bernardino at the Glen Helen Amphitheater.
With all of its cracked pathways, the Glen Helen Amphitheater was almost filled to the venue's 60k+ capacity, all filled with fans from all directions on the planet to sing along and vibe with the chill nature that Post Malone carries around.
Having had prior experience with the Glen Helen Amphitheater, knowing it would be incredibly jam-packed, I arrived a little past the venue's parking opening times, which were already filling up quite fast. But, success! No hard-hitting traffic insight, and scored a pretty cool limited to 5000 people show poster designed for this specific San Bernardino show.
The walk from the parking location was less than 2 miles and wasn't too bad, thanks to the overhead clouds. Waiting around 4 hours for the concert itself to start was a little boring, but thankfully had various people to chat with, as well as a fun appearance from Good Mythical Morning's Rhett and Link, who were in attendance for last night's show.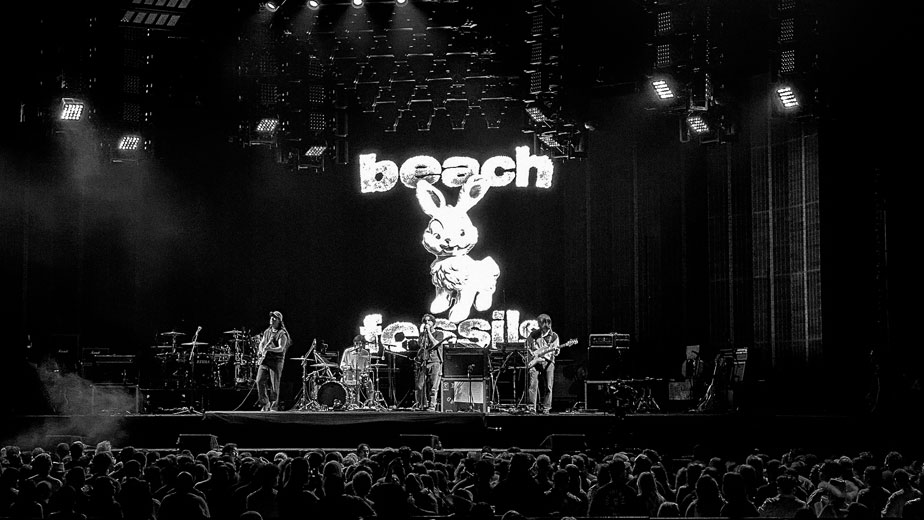 As soon as 8 PM came around, the bright venue lights would shut off for the show's only opener, New York-based indie-rock outfit Beach Fossils. Beach Fossils is a group I had no information on ahead of time, never once listened to a song, knew nothing about the members, and was completely blind. But, as soon as they jumped into their first song of the night, "Sleeping on My Own," I was utterly hooked.
The vibes were checked, the energy was good, and the members of Beach Fossils would give it their all, creating a fantastic atmosphere for the rest of the night to come. Constantly thanking Post Malone for bringing them along for the ride, creating fun memories such as getting the crowd to thank guitar tech Nick for everything with a resounding chant of, "We love you, Nick!"
As well as making fun jabs at Android phone users during a portion of the show where the group would ask the crowd to light a torch or phone flashlight, iPhones only, to family coming out to experience the fun.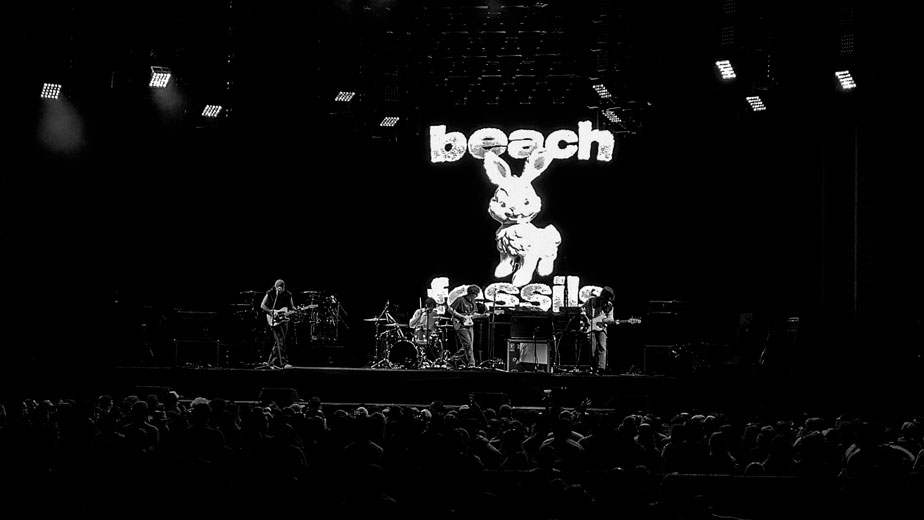 Beach Fossils would also include "Don't Fade Away," "Dare Me," and "Sleep Apnea" to their setlist, which was already filling me with joy as their instrumentals soared through the cloudy weather, further creating perfect vibes while not skimping out on their brand of high-energy.
This would also be my first show that I would bring along my pair of Loops, which blew me away with just how much more personal they made the performance feel. Beach Fossils would appear to hit their mark as the crowd in San Bernardino went wild for them from start to finish, cementing themselves as a phenomenal jam band that fits perfectly with Post Malone's brand of low-vibe energy.
Just as soon as they started, Beach Fossils would be off the stage, and the long wait for Post Malone would begin. After an onslaught of pop-punk waiting songs, which got the crowd singing along, the venue lights would once more darken the skies, and Post Malone's live band would hit the stage for a crazy performance that would set the tone for Posty's appearance.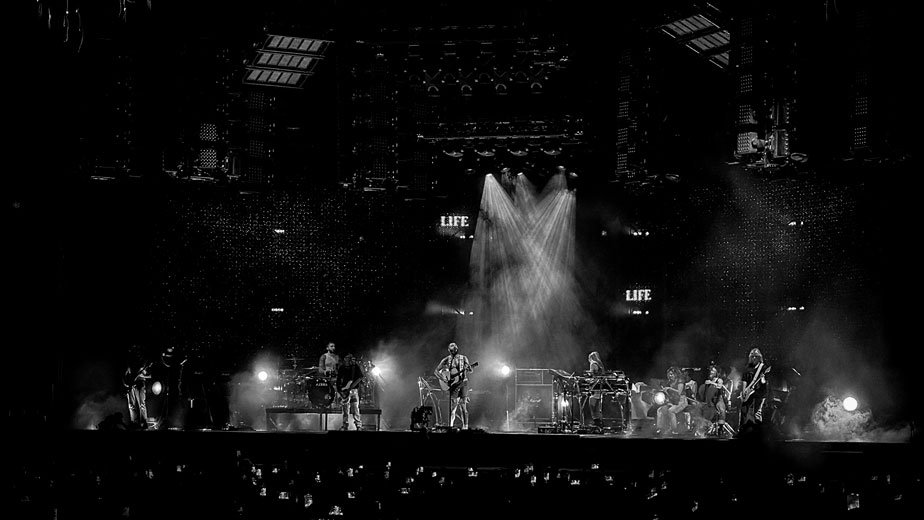 Getting the show started with a bang, Post Malone would get the crowd fired up with an incredible display of early energy in "Better Now." Jumping around the stage like a madman, Post Malone continued to showcase his crazed energy limits throughout the night as I watched with envy, hoping to have just a fraction for the walk back to the car.
The crowd would choose to match Posty's energy limits, as the rapper would constantly stop between songs for beautiful interaction between artist and fan, profusely thanking the sold-out crowd for being there for the final date of his tour, each time holding back tears and showcasing smiles.
Bouncing between songs, Post Malone's stacked set would include "Psycho," "Mourning," and "Over Now," to name just a few tracks in his 25-track setlist. Post Malone would also go crazy with fire during his insane performance of "rockstar," which was filled with fire, fireworks, and anything else you could throw on the stage. It was both wild and unique.
A handful of my favorite moments were filled with the gratitude Post Malone would show to the crowd and put a spotlight on his live band, which brought his songs to a whole new level of rock, transforming his already amazing tunes into a greater spectrum of sound.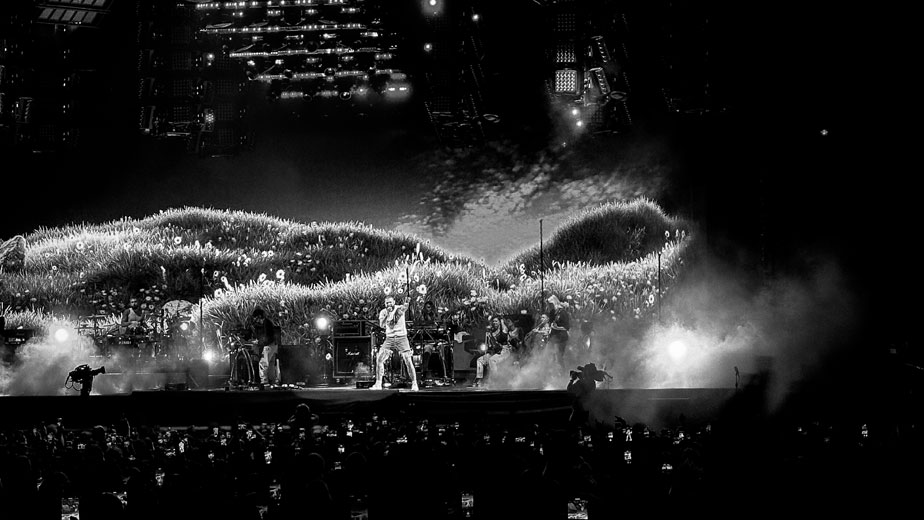 Post Malone would also continue to show his love by performing "Stay" with Jose. This fan would kill the acoustic performance and just add to the magic that already filled the hills of Glen Helen Regional Park. Once again, these interactions with his fans make Post Malone so easy to love.
Post Malone's performance would also have its moments of humor, as Posty would struggle with his mic stand not holding his microphone up, constantly falling in the process, with the artist laughing it up. In all reality, this performance felt more like seeing a friend perform at a school talent show instead of a chart-topping artist simply in it for the green. The only difference is a fantastic backdrop.
The show would move quickly as "Better Now" would become just a memory as Post Malone would arrive at the bottom half of his setlist, which included a fantastic performance of "Circles," before wrapping up the night with "Sunflower" and "Chemical." Before I knew it, I was already walking back downhill toward the dirt-covered parking spaces that started my journey earlier that day.
The welcoming vibes of both Beach Fossils and Post Malone meshed together perfectly, creating a concert experience that felt more like a family party, and it's those vibes that helped form long-lasting memories, such as strangers in the crowd becoming friends, tons of good manners, and just an overall feeling of peace.
Atrocious parking layout aside, the Glen Helen Amphitheater was a perfect venue for Post Malone to end his 2023 tour run; the sound, atmosphere, and staff were all great and added to an already exhilarating experience.
If you can experience the wholesomeness of a live Post Malone performance, I can promise you it won't be an easily forgotten experience.
Keep up with Post Malone on social media: Instagram | TikTok | Facebook | X
Keep up with Beach Fossils on social media: Instagram | TikTok | Facebook | X