Dynamic K-pop group TWICE has been traveling the world throughout their READY TO BE world tour, the group's fifth world tour, which includes a staggering thirty-six dates. They made their first US tour stop in Inglewood, CA, at the infamous SoFi Stadium.
Becoming one of the most dynamic K-pop shows I've experienced as the girl group brought the massive stadium to its knees. This specific stop of the READY TO BE world tour would also mark my first time at the venue and my first time experiencing the high-energy antics of TWICE. Needless to say, I left highly impressed and a bigger fan than before.
Fans from all around washed into the giant interior of SoFi Stadium as lines upon lines encircled the venue featuring vibes filled with excitement, happy tears, and a sea of smiles among the group's ONCE fan base. It was an exciting few moments to experience, seeing an ocean of fans there to encourage, sing, and live in the moment with these talented performers.
TWICE wasted zero time igniting the hearts in SoFi Stadium as the girl group took to the stage basked in shadows and smoke as 8 PM came around the corner, beginning what would become an exhilarating experience of pure bliss and unforgettable memories.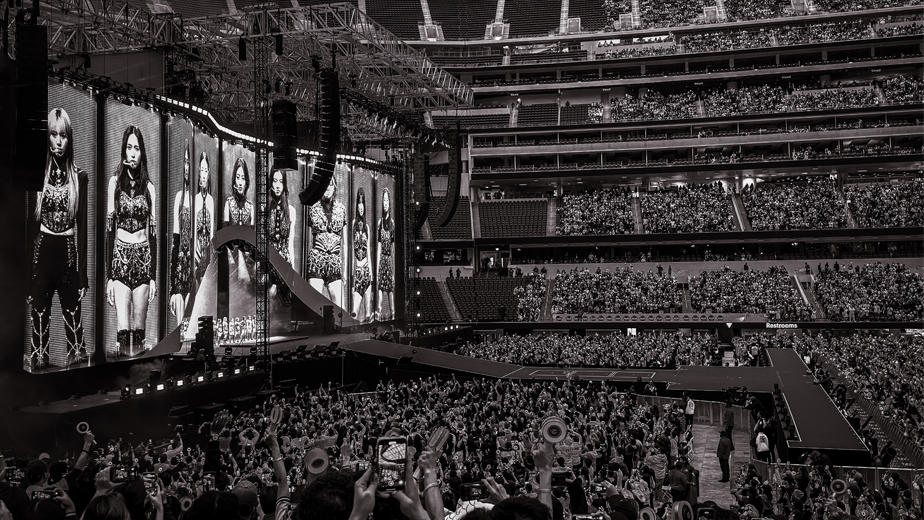 As I previously mentioned, this was my first time seeing TWICE live, and it's certainly not going to be my last now. Setting off their explosive evening with the English version of "SET ME FREE," which intertwined perfectly with "I CAN'T STOP ME," fans began to cheer louder than the girls were able to sing, creating a beautiful wall of sound that each member of TWICE could be seen embracing.
There's something magical when an artist and crowd can connect through the power of music, as it's so subjective that each song has its own meaning for each individual. But, at a live show, these personal walls are tested as we melt into one another. I saw tons of friendships forming, family bonding, and just tons of positivity as ONCE and TWICE continued to reunite and become one as the night continued.
I was incredibly hyped before the show to get to hear "MOONLIGHT SUNRISE" live as the track quickly became a favorite of mine, a track I found myself constantly going back to, and TWICE did not disappoint as their performance solidified my love for the three-minute song.
Everything from their vocal delivery to the raw passion left on the stage was like watching a full-blown musical production. If you've never experienced a K-pop show before, they go hard, and TWICE's production value and live styling created the perfect backdrop for the night.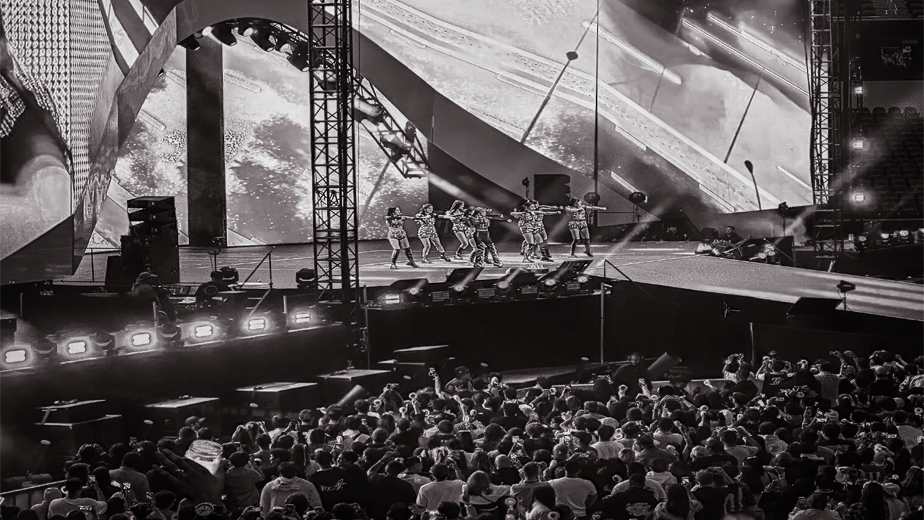 Each member of TWICE had their own chance to shine during their solo stages, with Dahyun performing a beautiful cover of Colbie Caillat's "Try," which, I won't lie, brought out a few tears—followed by Tzuyu taking on Charlie Puth's "Done For Me" as well as Sana taking the reigns for her performance of "New Rules" by Dua Lipa.
Finishing up the first set of solo stages were Momo, who took Beyonce's "MOVE" to a whole new level, and Mina, who took on Ariana Grande's "7 Rings." Each solo stage was beautiful and filled with passion, adding an electric atmosphere to the performance.
Also, might I add that the members of TWICE are hilarious, from talking about showering together to performing Stray Kids' "S-Class" viral dance to the playful nature each member shows each other. TWICE truly comes off as a group of friends doing what they love, which pleases their fanbase in the process.
ACT 2 and ACT 3 were probably my favorite parts of the overall concert, as the group's addition of a live band throughout the READY TO BE world tour has added such a unique dynamic to the otherwise overly poppy songs, creating in the process whole new beasts that left me feeling as if I was at a pop-rock concert over a K-pop performance.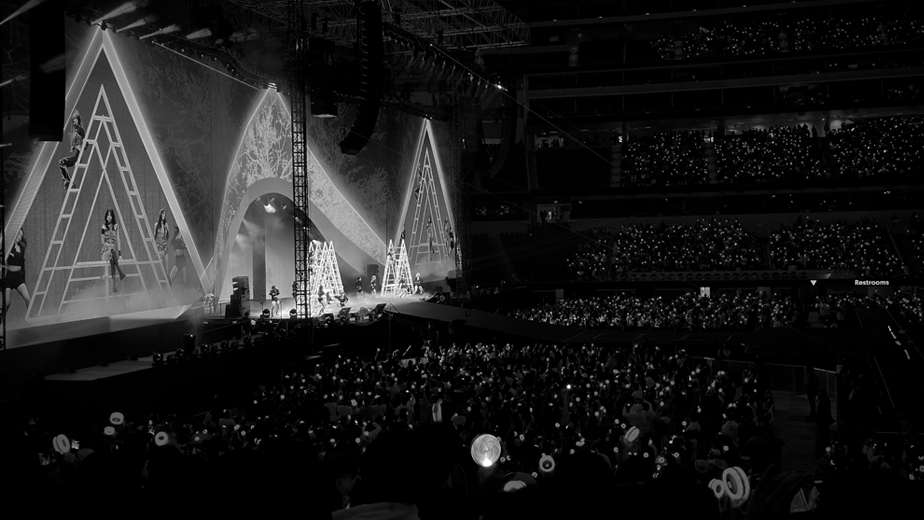 Songs like "Cry For Me," "FANCY," and "Queen Of Hearts" became highlights thanks to the inclusion of the live band. Hopefully, TWICE will continue to utilize the live band element for future tours and performances, as the pop-rock sound seems to fit them live a glove.
Moving onto the final set of solo stages, Chaeyong put on an emotional performance of "My Guitar," which had the entire stadium at peace. While Jihyo grasped the heartstrings of ONCE with her performance of "Nightmare," she later announced that her solo album would be released around August, which we now know is called, KILLIN' ME GOOD.
Finishing up the group's solo stages would be Jeongyeon's cover of "Juice" by Lizzo, which was incredibly different. The entire vibe on stage was hilariously fun and had me dancing in my seat as this version quickly became my favorite, as well as Nayeon performing her overall catchy song, "POP!" which got stuck in my head for the rest of the weekend…
Between their performances and solo stages, TWICE would take an incredible amount of time to address the crowd of ONCE, further creating a loving bubble between artist and fan, as they were filled with warmth and love that the crowd sent towards them.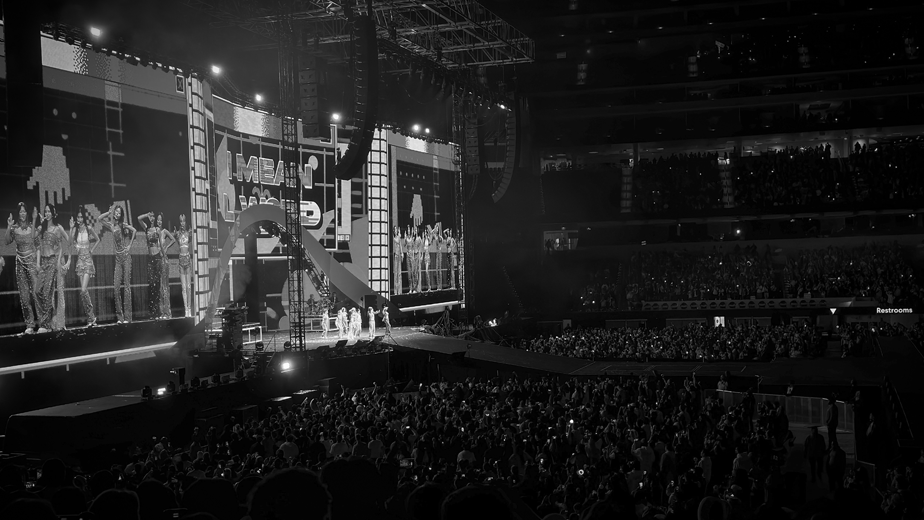 TWICE would continue to create an emotional atmosphere with their performance of "When We Were Kids," which would showcase photos of each member alongside their younger counterpart, a beautiful sight that also revealed just how far each member has come since the group's formation in 2015.
The girl group would also feel the love of Los Angeles as LA ONCE members would prepare a loving video for the group to watch with the 50,000+ fans in attendance. Continuing, even more the love between themselves and their fanbase.
The group would round out their performance with "Doughnut" and "Basics" before bringing the night to a close with "SIGNAL." Bringing a bookend to what will undoubtedly be an unforgettable night of laughter, tears, and good music.
TWICE's READY TO BE world tour is an experience I will soon not forget, and I'm already itching to catch them in a live setting again. If you're given a chance to see TWICE live, you should not let that chance slip by, as you're in for a wildly funny and overall fun live music experience. As I mentioned at the start, I'm an even bigger fan after attending their show than I was before.
Keep up with TWICE on social media: Instagram | Twitter | TikTok | Facebook