Get your favorite 2007-era Hot Topic shirt out of storage because you're going to need it with the stacked lineup planned for When We Were Young 2022. Following in the footsteps of its 2017 predecessor, the 2022 festival will bring together nostalgia acts from across the EMO and punk scenes, with a few from other genres thrown into the mix for good measure. This time, however, event heads are bringing When We Were Young to the deserts of Las Vegas for an epic one-day event taking place on October 22.
The lineup for the 2022 revisit features headliners My Chemical Romance and Paramore. Joining them for the one-day look back are Avril Lavigne, Bright Eyes, Jimmy Eat World, AFI, Alkaline Trio, The Used, Taking Back Sunday, Dashboard Confessional, Boys Like Girls, The All American Rejects, jxdn, Senses Fail, Silverstein, Atreyu, The Ready Set, The Red Jumpsuit Apparatus, Hawthorne Heights, A Day To Remember, Neck Deep, Pierce The Veil, Mayday Parade, Meet Me @ The Altar, The Maine, and more!
---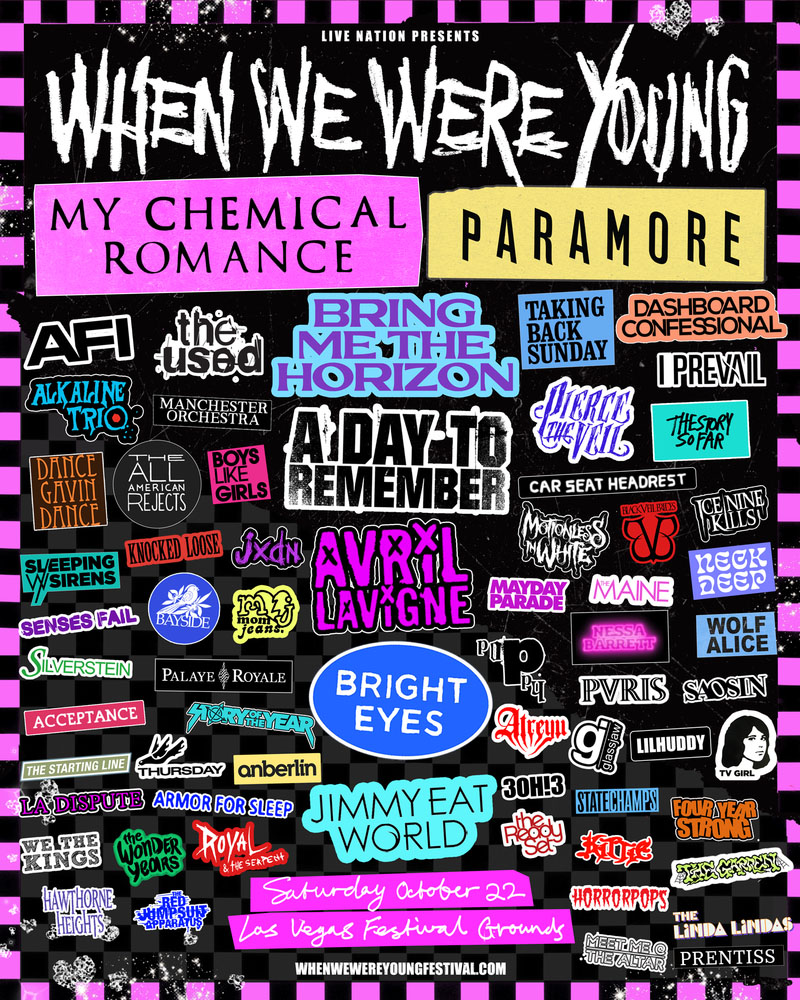 ---
Pre-sale tickets for this epic correlation of earworm-inducing songs will begin this Friday, January 21, at 10 AM PST. Tickets will start at $224.99 + fees, with the festival providing a layaway program that will see concert-goers dropping an initial down payment of $19.99.
If you're interested in taking part in the pre-sale for When We Were Young 2022, head on over to the festival's official website, where you can sign up for pre-sale access as well as also check out the other pricing tiers and event details.