The official map for the highly anticipated and mostly notorious Las Vegas music festival, When We Were Young, has finally been released. The When We Were Young festival map showcases five stages named; Stripe Stage, Checker Stage, Neon Tent Stage, and their main stages consisting of the Black Stage and Pink Stage.
Earlier reports back when the pop-punk/EMO music fest was first announced seemed to hint that only three stages would house the over sixty bands performing in the hot Las Vegas fall heat. So, to see two added stages is rather nice, all things considered.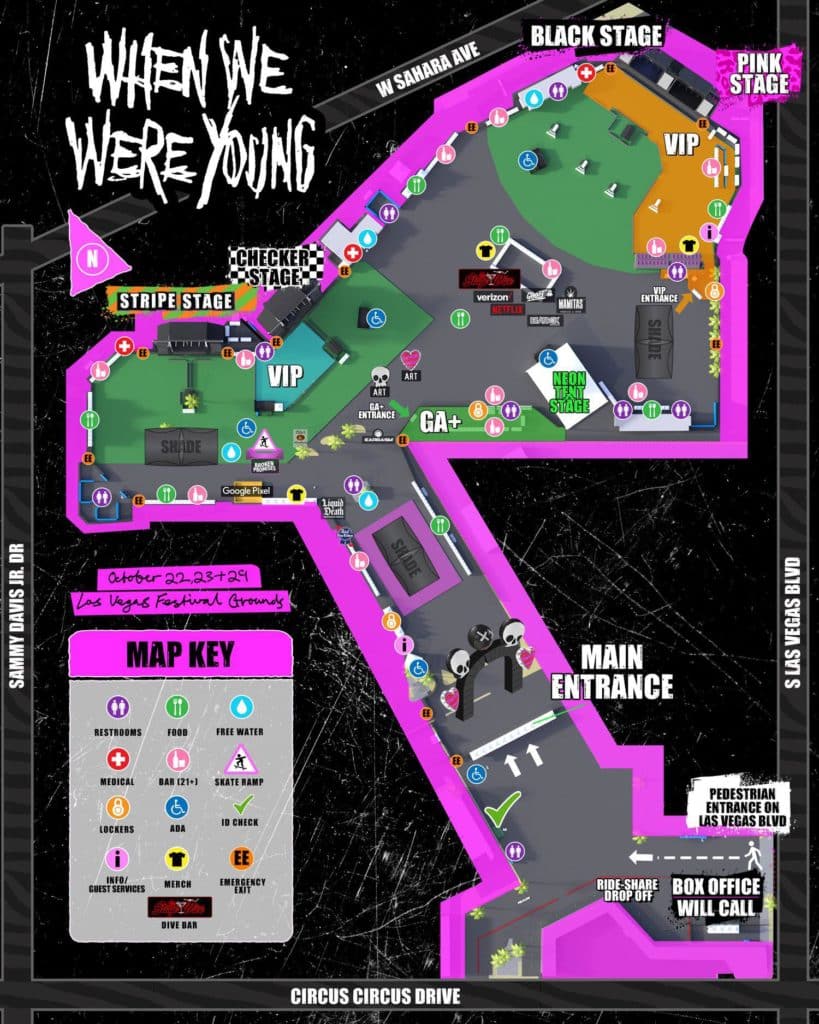 The glaring elephant in the room, however, comes in the form of the massive size of the festival's VIP exclusive location in front of the split main stage, which suggests that if you didn't pay the VIP price, the front barricade is not where you'll be standing. This is sure to cause a bit of an uproar among concertgoers.
Within the release of the official When We Were Young festival map, the festival's Twitter account also confirmed that they would allow re-entry into the festival grounds.
Now that we have our official festival map, it should only be a matter of time before official set times will be announced. The obvious guess, however, is that My Chemical Romance will be commanding the Black Stage while Paramore takes over the Pink Stage.
Things are heating up as we're only a few weeks away from the festival itself.
Keep up with When We Were Young on social media: Instagram | Facebook | Twitter