Pop-punk legends blink-182 have been making 2023 their year, with a sold-out world tour, in what could be the band's most successful tour in quite a while. Making their home show leading into the hot summer season at Los Angeles' BMO Stadium was the perfect way to welcome in a summer of reckless abandon.
The venue, which can hold around 20k+, was filled with die-hard fans, almost all exclusively rocking the Target-sold smiley logo t-shirt. Fans who made the trip to BMO Stadium a little early were treated to blink-182's soundcheck, which induced the hype meter into the sun-glared evening.
Signs around the venue featuring Tom DeLonge, Mark Hoppus, and Travis Barker would wrap around the open-air stadium giving fans tons of photo opportunities while also getting early merch purchases out of the way. The perfect way to pick up your show merch, depending on your parking location, is just a quick trip back to the car, where you can drop off your goodies you might not want to hold for hours on end.
It didn't take long before doors would open at 6 PM, and the long crowds would twist and turn passed the ticketing scanners towards inside merch tables, alcohol, and the mad dash to locate seats. Continuing the quick pace, it wasn't long before our first taste of live music in the form of the fierce California natives, Destroy Boys, would take the stage to a great sea of concertgoers ready to get the show going.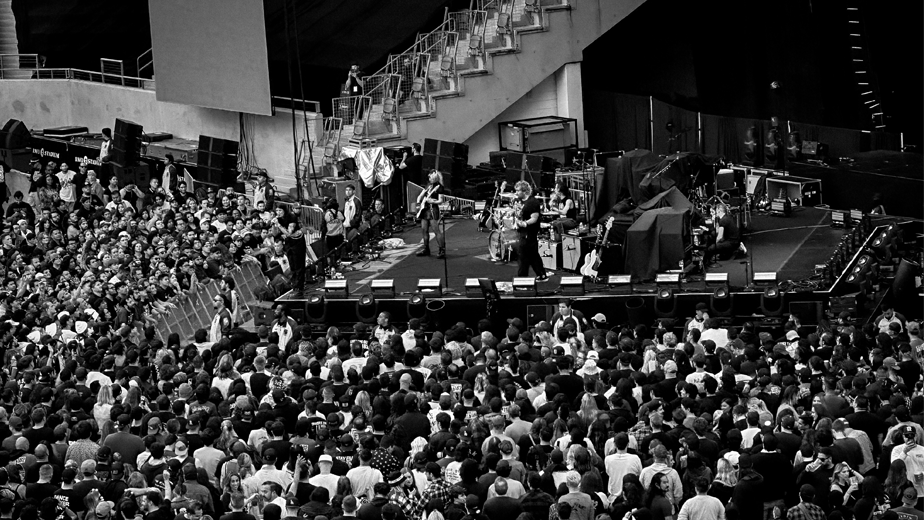 Destroy Boys proved on June 16 why they continue to be a band to keep your eye on as they powered through their short set filled with high-energy, loud screams, owning the stage in the process transforming blink-182's stage into their own, a perspective I could see for the band in a few years.
The only issue I'd say Destroy Boys encountered, at least as far as seated fans were concerned, is that, at times, vocals between Alexia Roditis and Violet Mayugba would get lost in the background of the band's instrumentals, which sounded phenomenal.
However, when everything was in sync for Destroy Boys, the punk outfit was exceptional, and I became an instant fan, looking forward to my next time experiencing the energy the group leaves on stage.
The members of Destroy Boys would quickly leave the stage, leaving the crowd anxious for more and more, in this instance was, even more, high-energy antics, this time the drug being the powerhouse scope of Turnstile.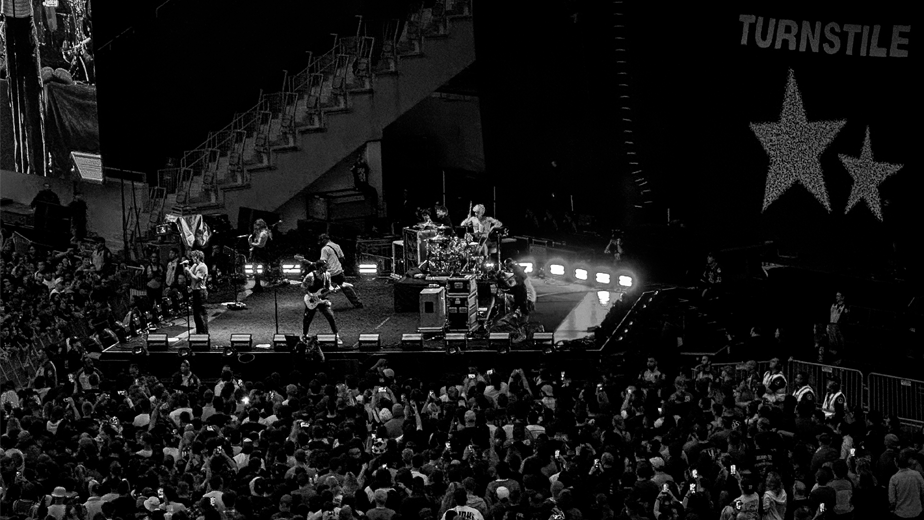 I'll be quite honest, I gave Turnstile quite a few play-throughs before heading out to BMO Stadium, and for whatever reason, their style of music never clicked in my brain as something I could see myself enjoying. It was pretty weird because a younger version of myself would be all over them.
But, those notions I had about Turnstile and their nostalgia-fueled style of punk would change the deeper we ventured into their crazy energy-filled set. Around their third song, I found myself hyped, jumping around like a madman, and attempting to sing back what I was hearing. In less than 10 minutes, I became a fan of Turnstile, as their brand of music truly reflects greatness in a live setting.
And now, while I'm writing up my thoughts in this show review, I have a variety of Turnstile songs playing in the background. Needless to say, one can really become a fan of someone just by their stage presence, and that's something Turnstile has that many do not.
The crowd that grew increasingly more anxious for blink-182 to take the stage found themselves lost in the blur of Turnstile as pits opened up, phones were raised in the sky, and the band quickly showcased themselves as a heavy hitter in the space and, just like Destroy Boys, I found myself excited for the next time I would see this massive band in the making during a live experience.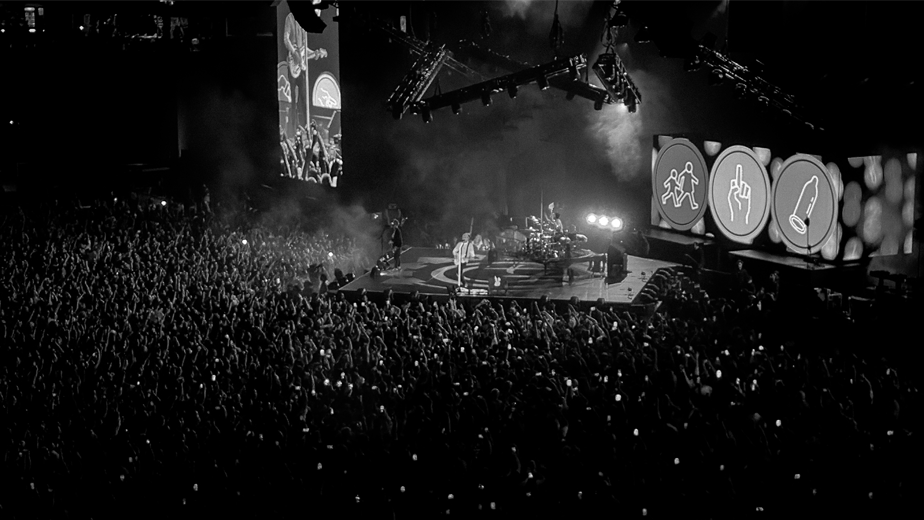 9 PM came along swinging, as the lights throughout BMO Stadium once again shut off, and with a sea of screaming fans, blink-182 slowly took to the stage with their trademark smiley logo welcoming the occasion behind them.
Kicking things off with a blaze, blink-182 would start things off with "Anthem Part Two," which got the entire venue on their feet as fans created small mosh pits with their friends and family in the seats while the sea of screaming voices on the floor created their own unique experience in the presence of these legends of the genre.
Bouncing between their hits, "The Rock Show," "Family Reunion," and "Man Overboard," I quickly knew this was the best I'd seen blink-182 since their 2013 anniversary shows for their Untitled album. The energy between bassist Mark Hoppus and guitarist Tom DeLonge was top-notch, not once missing a beat, and in blink fashion BMO Stadium also got to enjoy the orgasmic tones of Travis Barker.
What makes the dynamic between Mark Hoppus and Tom DeLonge unique is knowing how long they have been friends, as jokes between the two land perfectly, even a few that had DeLonge cringe just a bit, which I never thought I'd see.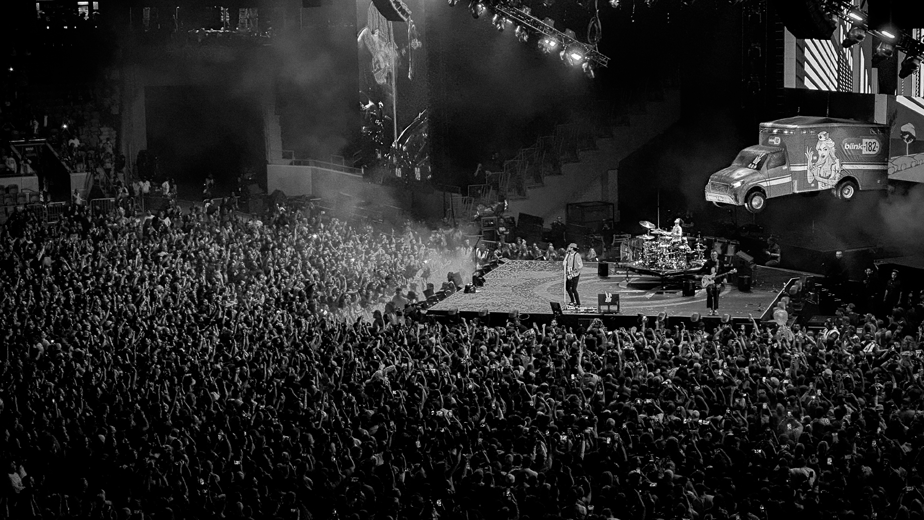 The highlight of the night for me was hearing Tom DeLonge tackle the few Matt Skiba era songs the band has had in their setlist, including "Bored To Death" and "Cynical," which DeLonge makes his own, and simply put, crushes! Hopefully, blink-182 will expand on the Skiba-era songs they include in future setlists, as there are quite a few songs I believe DeLonge could master with ease.
Regarding Neighborhoods, the tracks featured on the setlist, "Up All Night" and "Ghost on the Dance Floor," exceeded expectations. Having heard many of these songs live before numerous times, I'll keep saying it; this was the best I'd heard the band since their original breakup back in 2003.
The entire performance was organic, never once felt forced, and as others have mentioned, it seems like Tom DeLonge is very excited about this era of blink-182. It's a refreshing take that couples lovingly with the optimistic outlook that Mark Hoppus brings to the band.
Alongside their usual onslaught of hits, fans seemed to connect with the group's latest single, "Edging," as the stadium further erupted in sing-along. The connection between blink-182 and their fans would continue as the night would come to a close with the loving sentiment that was shared between Travis Barker and his wife, Kourtney Kardashian, as the media personality would go on to reveal her pregnancy to the blink-182 drummer in a parody of one of the band's memorable music videos.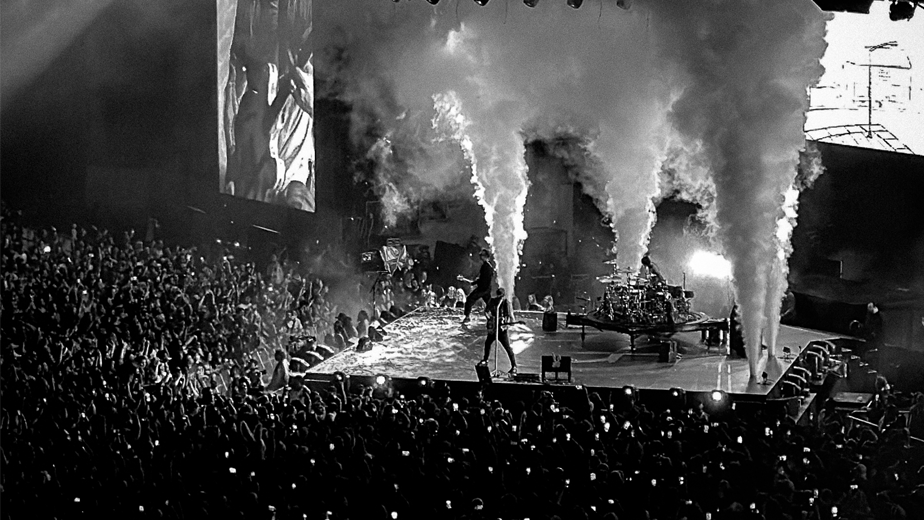 Everything from Destroy Boys to Turnstile and finally blink-182, the BMO Stadium performance should go down as one of the best blink-182 performances in recent memory, which isn't saying much as the band has consistently been killing it throughout their 2023/2024 world tour.
High ticket prices aside, this is a blink-182 tour fans of the band do not want to miss. Everything from the on-stage banter to the setlist and the overall atmosphere between the three members was pure magic, and I already want to drop another stack of cash to see them again.
Keep up with blink-182 on social media: Instagram | TikTok | Twitter | Facebook
Keep up with Turnstile on social media: Instagram | TikTok | Facebook
Keep up with Destroy Boys on social media: Instagram | TikTok | Facebook