The K-pop music scene is the latest music community to feel the Fyre Festival experience in the form of the inaugural "premiere k-pop music experience," KAMP LA. Controversy after controversy would begin to appear days before the Korean music festival was set to take place, with many acts not being able to make the trip to Los Angeles due to visa issues keeping them from taking flight.
Day one of KAMP LA would go from including seven acts to a mere three. Those plagued with issues were BamBam, KAI, Lapillus, and Taeyeon. Leaving P1HARMONY, iKon, and Super Junior to carry the weight of the festival's first day. Luckily, T1419 and Momoland were up to the task of adding an extra performance to their weekend to ease the load a little.
My wife and I, who initially introduced me to all the k-pop groups I had grown to be excited to see on the live stage, would end up taking our niece and her friend, who, funnily enough, would be described as a bigger k-pop fan than myself. We arrived at the Rose Bowl, and right away, chatter from other festival goers would indicate continued conversation towards the KAMP LA organizers' lack of transparency and an overall breakdown in conversation.
KAMP LA's food offerings were a great selection, but the merch offerings simply being KAMP Los Angeles branded items put an instant lousy taste in my mouth. Why would anyone want to wear a merch item featuring dead-center a festival that let down fans worldwide and the groups many were initially there to see?
We quickly took to our seats and awaited P1HARMONY to kick things off, and when the young group took to the stage, the energy was off the charts. I'll be honest, I knew the bare minimum about this group going into day one of KAMP LA, but I left their performance as a fan.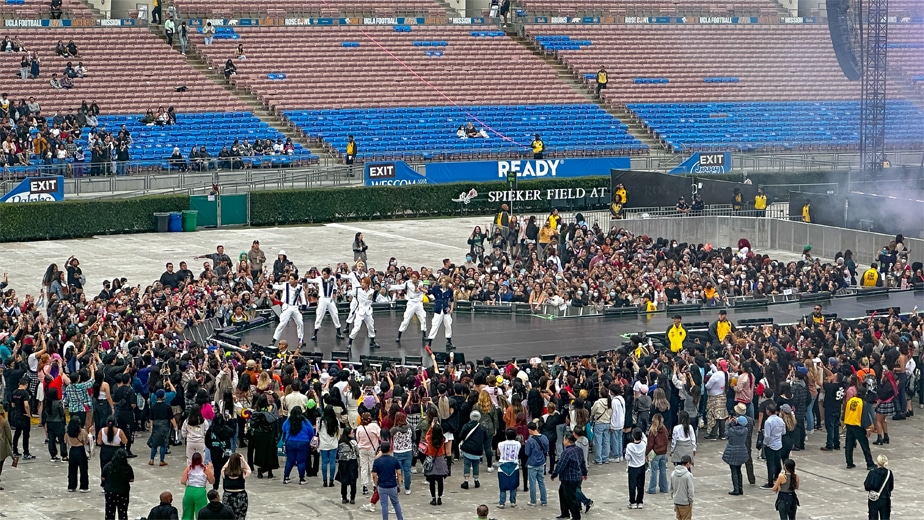 Unfortunately, the crowd was on the smaller side during P1HARMONY's energetic and fast-paced yet fun performance. But, these six performers performed as if they were performing for millions of screaming fans, and their energy slowly began to turn the KAMP LA mess into a fun experience.
Festival-goers were screaming, many were dancing, and the chatter from other festival-goers unfamiliar with P1HARMONY was joyous and grateful that the group was completely giving it their all.
After just a few songs that included "Do It Like This," "Pyramid," "AYAYA," and a handful more, P1HARMONY walked off the stage to tremendous cheers, flashing smiles and waving goodbyes as they disappeared out of sight.
The clouds began to form heavier above the Rose Bowl in Pasadena as festival-goers awaited T1419, another younger group, to take the stage. In the blink of an eye, the guys of T1419 took over the stage but shortly walked off for an unknown reason leaving festival-goers a bit puzzled.
After one more walk-out attempt, T1419 finally took to the stage, where fans were given a brief Q&A with the group before they jumped right into their performance, adding to the energy levels left behind by P1HARMONY.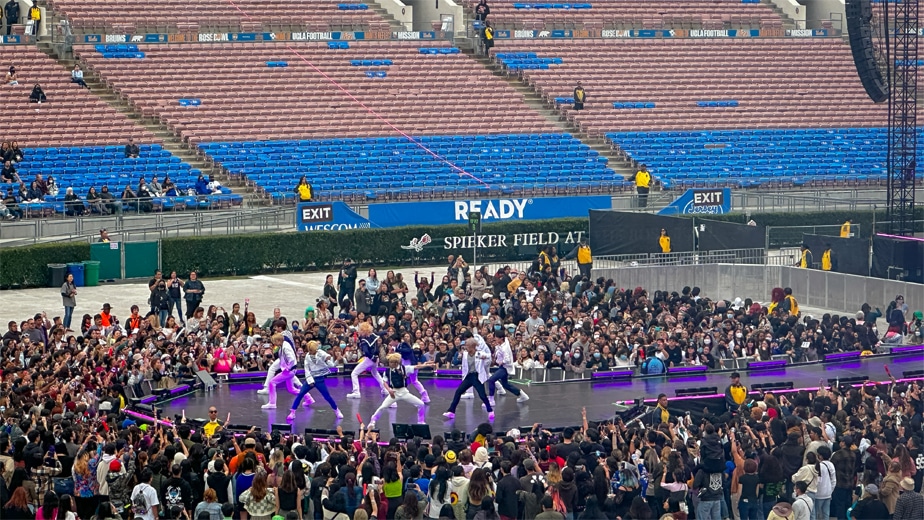 Unfortunately, just like with P1HARMONY, the crowd size was still lackluster for these newcomers' ground-pounding performance. During the group's second Q&A section, the members of T1419 would exclaim how their first trip to the United States was a great memory.
These newcomers' dedication was remarkable as they left their sweat and passion on the KAMP LA stage for a performance they weren't originally scheduled for.
After performing a few more songs, T1419 would also disappear off stage, but not before hearing more cheers than what they walked out to. An impressive day-one performance that I only wish had more fanfare, as these nine members brought their A-game.
As rain clouds continued to linger over the Rose Bowl, a group I had become very fond of would soon take the stage: Momoland.
Joining T1419 in adding weight to day one of KAMP LA, Momoland's "Wrap Me In Plastic" had become something of an earworm of mine for months, so I was both excited for the prospect of hearing the track live but also dreading its catchiness.
And just like that, the six talented women of Momoland would take to the stage, introducing themselves as one of the members quickly walked off stage as her microphone began to experience some issues.
All technical issues aside, the women of Momoland noticed it had begun to drizzle, but that wasn't going to stop them from having fun, as they exclaimed they were going to head towards the fan stage to be in the rain with festival-goers.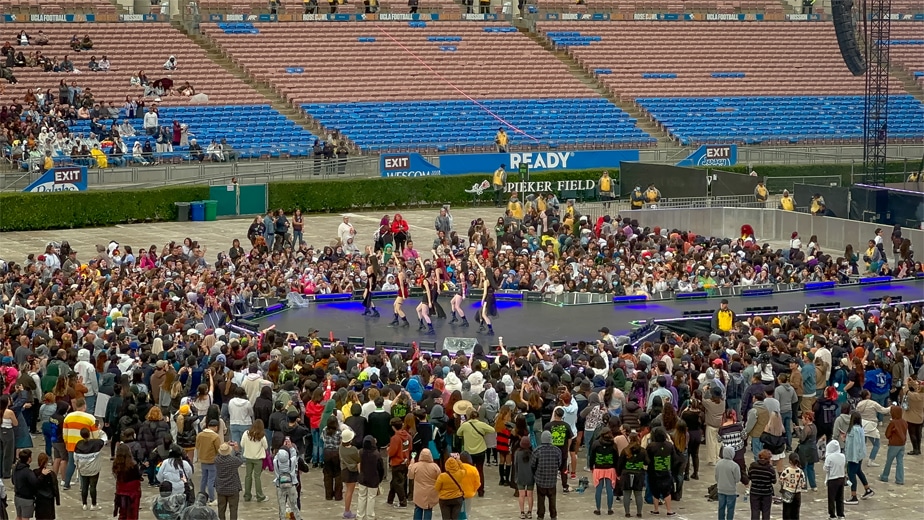 Featuring tons of energy and impressive dance moves, Momoland quickly became a festival-goer favorite as they powered through a handful of their highly memorable songs, including "Wrap Me In Plastic."
Momoland interacted with festival-goers creating a loving experience between artist and fan as they took fan's phones and took selfies before jumping right back into their intricate dance routines.
Momoland put on a fantastic performance for day one of KAMP LA, so if you're heading out to day two of KAMP, you're in for a treat, as these six women will not disappoint.
Momoland would leave the stage, all smiles, as the rain clouds began to move away from the venue.
Day one of KAMP LA was quickly coming to a close as fan-favorite iKon was next to light the festival's stage on fire with their unique attitude and heart-pounding energy.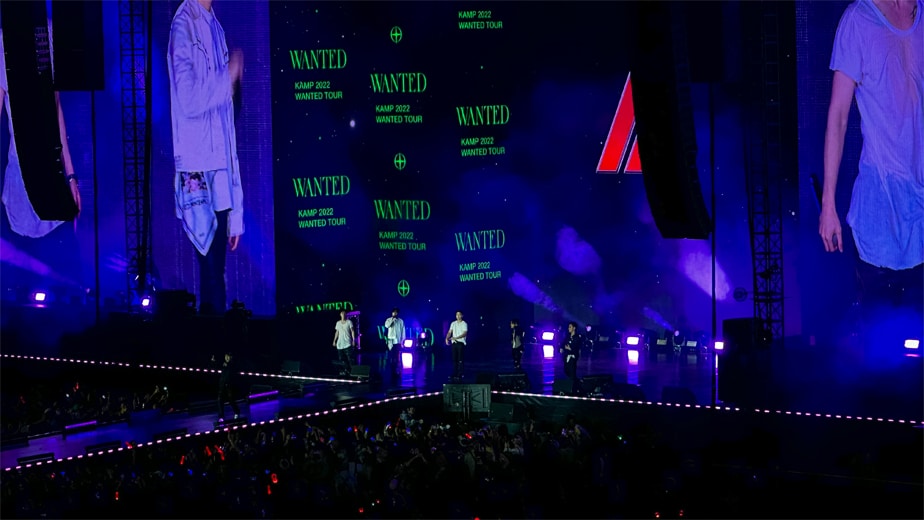 iKon quickly showcased why they are iKonic, quickly making the stage their own as fans cheered and screamed. The smiles across members' faces were enough to know just how much they love doing what they do.
iKon's performance, like Momoland's, was filled with fan interaction and unique moments that certain festival-goers would have a hard time forgetting, from jumping into the crowd to one-of-a-kind selfies.
The crowd had also grown much larger, but sadly not quite the crowd and energy that a group like iKon deserves. I'd love to see this fantastic group live again, but in a setting that knows their worth, and that goes for all the groups performing during day one and day two of KAMP LA.
iKon utilized the little they had during day one of KAMP LA to create a memorable experience, gaining new fans and showcasing why they are a worldwide sensation.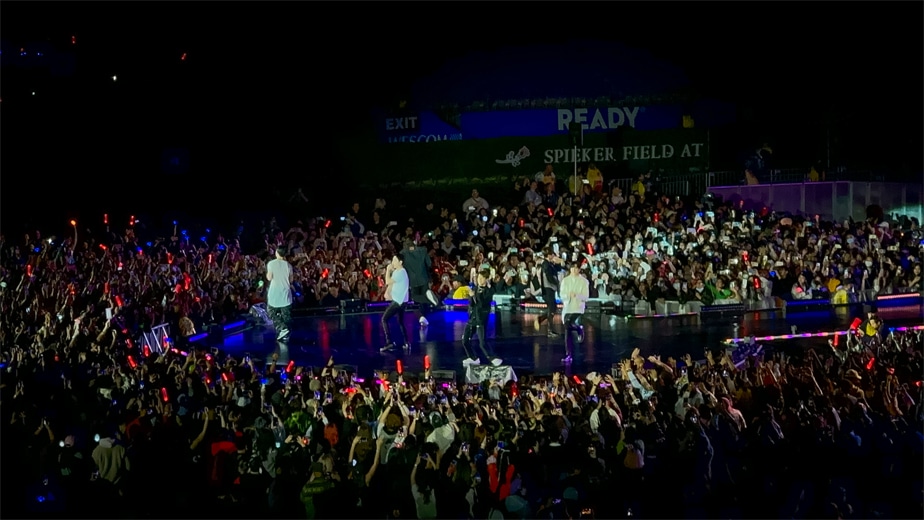 Powering through "Rhythm Ta," "Love Scenario," "But You," and more, iKon truly made their KAMP LA experience as if it was the most important stage they had ever performed on. A sensational sight with amazing energy and a group I can't wait to see on stage again.
iKon's time was sadly up. But that just meant Super Junior would shortly bookend day one of KAMP LA in a way that only Super Junior knows how to do.
Fans quickly rose to their feet once Super Junior appeared on stage, quickly turning KAMP LA into a full-blown Super Junior experience.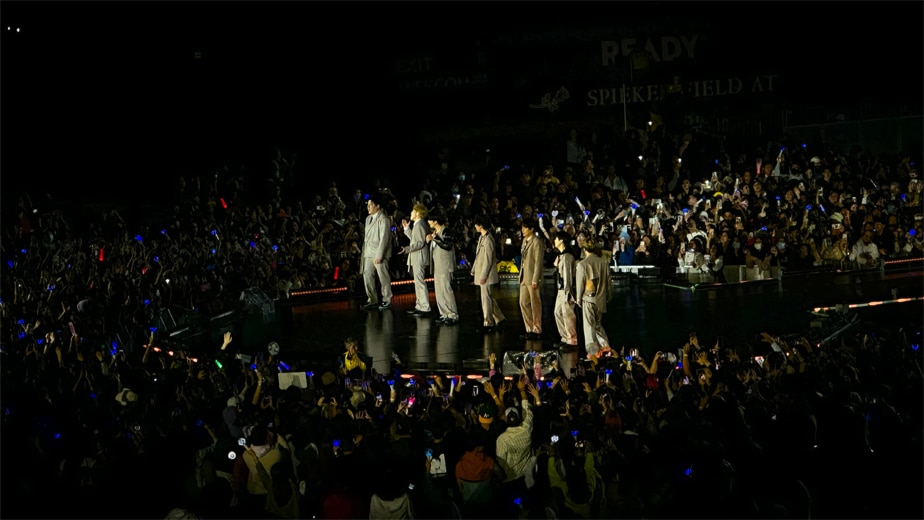 Performing an onslaught of songs from their vast catalog, including "Miracle," "Devil," "Sorry Sorry," and more. But, the inclusion of their latest single, "Don't Wait," truly got fans moving and grooving the most as the crowd erupted.
Super Junior was probably the group on the lineup that I was most familiar with before going into KAMP LA, knowing of them and their catchy songs back in high school over a decade ago. So, to finally experience what their fans have experienced numerous times was excellent.
From celebrating Donghae's birthday to the group having fun together on stage. Super Junior did not disappoint.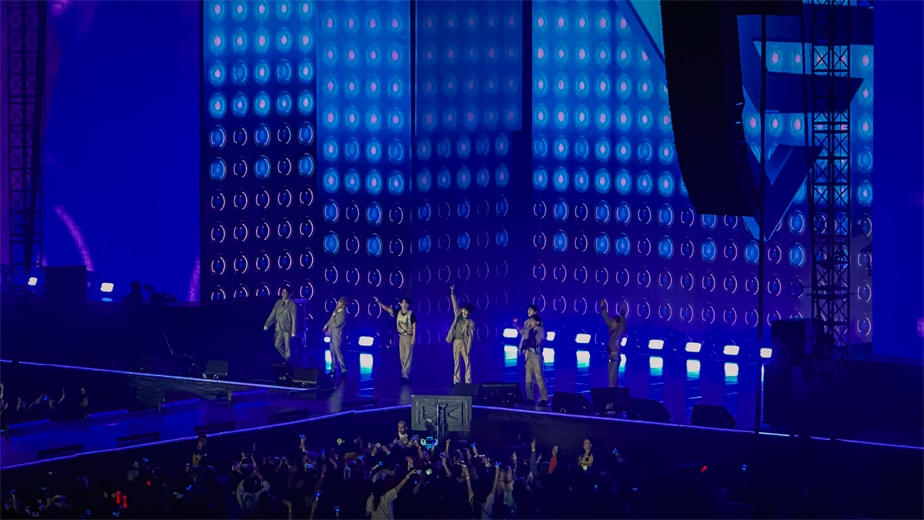 Both Super Junior and iKon brought the fire that honestly had KAMP LA erupt into what it could have been if it wasn't for poor planning, talent mismanagement, and overall transparency.
These two talented groups, alongside P1HARMONY, T1419, and Momoland, deserved more than they got, but they all made it work and gave it their all. Performing to their heart's content and creating a fantastic experience for the festival-goers that still showed up in support of the performers.
Our time with Super Junior would quickly be over as they headbanged during their performance of "Bonamana," and day one of KAMP LA would soon fade into memory. A fun-filled memory shared with the five talented groups that made the stage their own, having rain parties along the way.
Everything leading up to KAMP LA was a complete disaster. Still, the performers made the experience a wonderful one, so I'm hoping the next time a "premiere k-pop music experience" decides to attempt something at this level, it's not announced last-minute, the performers receive everything they need to show up, and the "experience" portion remembers the community aspect of the k-pop music scene.
Keep up with KAMP festivals on social media: Instagram | Twitter | Facebook